I've been working from home since April 2020, and the big question – how is it? This is part 1 as I'm sure I can elaborate on this more in the future.
I've never been a working outside type of guy. Growing up on a farm, my Dad tried his best to get me involved with working outside and getting dirty, but I never enjoyed it. So the idea of working on a building site or even anywhere outside fills me with dread. I've stuck to office and retail roles in my career to avoid this exact situation. I really admire anyone that works outside every day in all conditions – definitely a harder man than me, that's for sure.
Working in web design is my first job role whereby I'm sat at my desk for 6-10 hours a day, and to be fair, I really don't find it hard. Here are my top pros and cons of working from home.
Working at home the positives:
👍 I control my time: I start work when I want and finish when I want. Sometimes I start at 9 am, sometimes at 7.30 am – I love that I'm not tied to any restrictions in this way. It's bliss. I also love the flexibility to nip out for an hour or have a long lunch with my partner.
👍 I get to use some wicked office equipment: I'm a real geek at heart – I love computers, speakers, keyboard etc. so not being restricted to what the office wants me to use, I can source and use exactly what I want, which gives me a strange sort of pleasure. For example, the keyboard I'm currently writing on isn't just any keyword; it's a Logitech MX keys Mac. At approximately £100, it is costly for a keyboard; however, I literally type of this thing all day, every day. Why not get something I'm going to enjoy using?
👍 Listening to music: I love music – and this job enables me to sit and listen to music for a good 6 hours a day. That's awesome. The role of creating websites means I'm mostly doing the work rather than talking to customers, which is great as I can zone out and focus on what I'm doing. I have different music for different tasks – if it's something that requires me to concentrate, then mellow beats with no lyrics are the playlist of choice. After lunch, I might need something a little more upbeat, so I reach for the house music playlist.
👍 No rush hour traffic: I've totally forgotten what it's like to sit in rush hour traffic, but when I do get a taste of it now and then, I thank my blessings for not having to sit in traffic for 2-hours a day! Being able to finish work at 6 pm and be home by 6 pm is amazing!
👍 Flexibility: Working from home allows me to do what I want when I want, where I want. I'm not going to anytime soon but knowing I can design websites on a beach in Bora Bora makes me happy.
Working at home the negatives:
👎 Lack of people to talk to: I am a people person – my last job was a car salesman and I absolutely loved meeting new people and getting to know them, building up a rapport – my current role is about as far away from that as I can get. I can go 2-3 days without talking to a client at all. I do however now enjoy an hour-long video call catching up with clients.
👎 Days of no exercise: Getting to the end of the day and only clocking up 300 steps is shameful. I have the option of working out inside but sometimes the day gets away from me and before I know it I'm going to bed.
👎 Days of not seeing the sun: Much like the above, having days in winter where I don't set outside is awful – this is completely my own doing though and something I can remedy quickly by just going for a short walk everyday.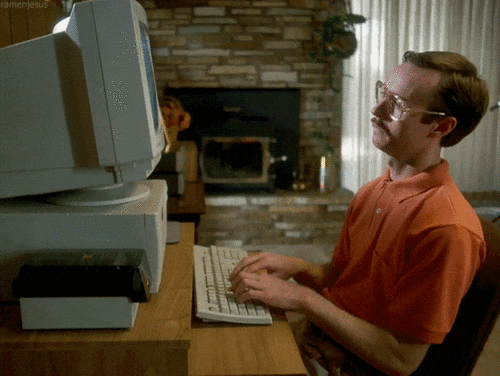 That's all I can think of for now.
Same again tomorrow.
Ben